TRENDnet Hive Mobile App Allows Users to Easily Manage Networks on the Road
TRENDnet Inc. (3/29/2023)


ISC WEST 2023, LAS VEGAS & TORRANCE, Calif. – March 29, 2023 - TRENDnet® (www.TRENDnet.com), a global leader in reliable SMB and consumer networking and surveillance solutions, is eager to announce the release of its free TRENDnet Hive™ mobile app for remote network cloud management, available for both Android™ and Apple® devices.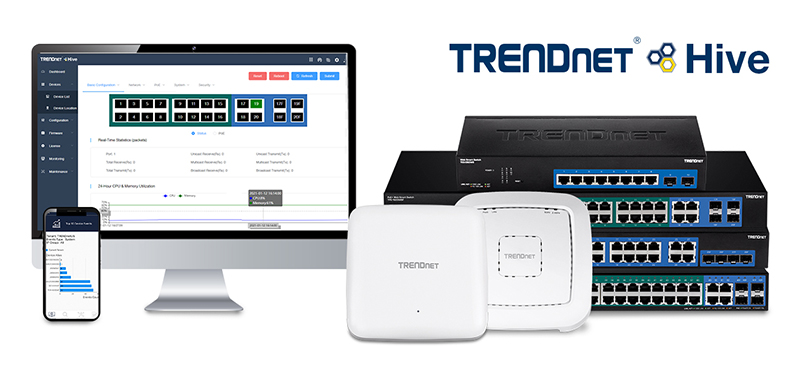 The new Hive mobile app gives users the ability to have full control over multiple networks in multiple locations all from the palm of one's hand, including managing, monitoring, and configuring Hive cloud compatible network devices. Users will be able to experience nearly all the features available on the TRENDnet Hive web portal conveniently from a mobile device. However, new licenses must be purchased through the web portal.
"Integrators need to be able to access networks they manage around the clock to address critical issues as quickly as possible to minimize damages or downtime to a network," said Evan Davis, senior manager of solutions engineering at TRENDnet. "With the TRENDnet Hive app, they can now manage multiple networks and locations remotely without needing to roll out a truck and go onsite, saving on both time and costs."
TRENDnet Hive is an advanced network cloud management solution designed to save users on both time and cost by simplifying and centralizing the management and monitoring of a network(s) and networked devices. With the TRENDnet Hive network cloud manager, effortlessly manage multiple managed switches and access points simultaneously.
Monitor and download detailed usage reports, both at the account and device levels. Easily locate data bottlenecks, and expand the network to improve overall productivity. Users can access TRENDnet Hive on select TRENDnet managed web smart switches and indoor access points by updating them to the latest firmware. Additional product categories will be added to TRENDnet's network cloud solution in the future, including routers, industrial switches, power distribution units, and more.
For more information, and for a full list of TRENDnet Hive compatible products, please visit www.trendnet.com/hive.
TRENDnet Hive Premium – For consumers & end users
Overview of devices, clients, and system logs
Manage system settings, documentation, logs, and debugging
Set notifications and e-mail alerts
Free iOS® and Android™ mobile apps
Centralized firmware management
View user and traffic statistics, and device lists
Device analysis, such as memory, CPU, PoE usage
Real-time network diagnosis and testing tools
Set and manage device configurations
Pricing: $10 USD per device annually
TRENDnet Hive Pro – For integrators & partners
All features in TRENDnet Hive Premium
Google Maps location tracking
Multi-tenancy creation
Monitoring and advanced management
Detailed reporting tools
Multi-user roles and permissions
Potential to earn RMR
Pricing: Contact your Authorized TRENDnet Distributor
---
About TRENDnet, Inc.
TRENDnet is a global provider of award-winning networking and surveillance solutions to small and medium-sized businesses, as well as home office users. Building networking solutions since 1990, TRENDnet enables users to share broadband access, multimedia content, and networked peripherals for true anywhere connectivity. TRENDnet's diverse product portfolio includes PoE, switches, Industrial, IP cameras, NVRs, fiber, Powerline, wireless, KVM, USB, and more. To learn more about TRENDnet, please visit www.trendnet.com.
Contact:
TRENDnet
20675 Manhattan Place
Torrance, CA 90501
USA